Certified Cash Home Buyer
Certified Cash Home Buyer Program
We know that not everybody purchases and sells properties as often as we do and the process can be confusing.
That's why we created the CERTIFIED CASH HOME BUYER PROGRAM which breaks down selling your property into four simple steps.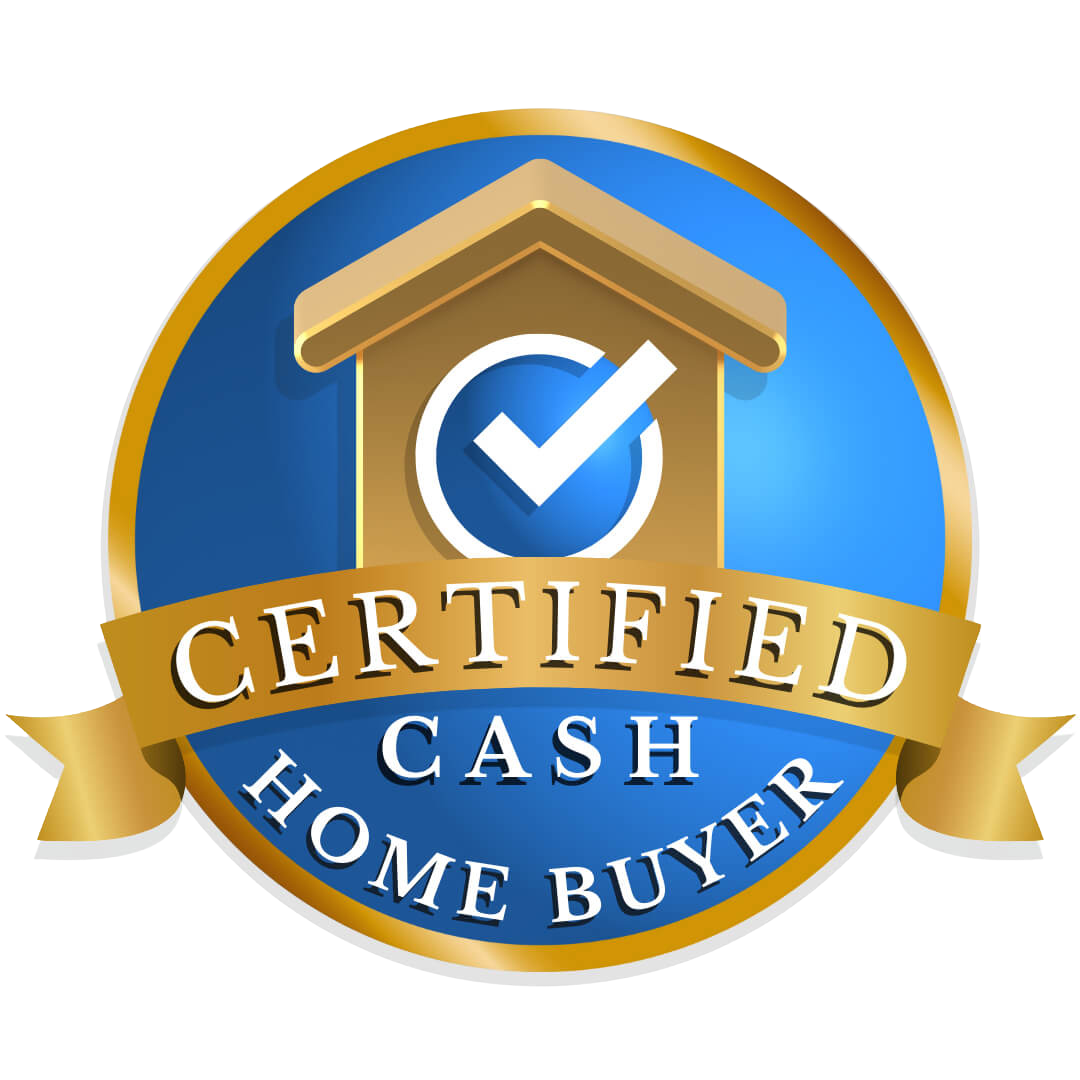 Let's talk! This first thing to do is get to know each other. We can share a little about who we are, what we do and what gives us the ability to work with you.  And you can share a little about your current selling situation. Typically all we need to help is why now is the time to sell, how quickly you want to sell, the current condition of your property and what price would make you excited to sell.
The next step is for us to put together our best ballpark offer based off the information that you were able to share with us along with what we know about the market in your neighborhood.
After we have taken everything you've given us on the Discovery Call and, sharpened our pencil it's time for us to get back on the phone. We'll take a few minutes just to recap and make sure we didn't miss anything. Then we can present you with a couple offers (and all cash offer and an offer based on terms).
If the answer is yes and it's something that you're willing to consider then we'll be on to the next step which is to set up an appointment to come out and take a look at the property!
Now, we get to visit the property, meet you in person and verify the condition. Our goal while we're here is to have you walk us through the property and give us a little background while we take pictures and shoot some video for our team. 
In the next steps you get to pick the offer and the closing date so we can move forward!
Now it's time to pick which offer works best for your situation and what date you would like to sell. Then, we finalize the contracts and sign! The title company will be notified and you will work closely with them and us to make the rest of the process easy.
We are excited that you've made it to this point and we take pride in knowing that we have been completely transparent. We enjoy making it easy to follow the four simple steps when selling your property to Anchored Homes. We look forward to working with you soon!
At Anchored Homes, we do our best to provide excellent service every time, which is why we are proud to share our client reviews with you. Check out how easy it was for these home sellers to go through the process of selling their property to Anchored Homes.
When I first purchased my property, I didn't know at the time the real estate person was just interested in the seller's wellbeing and not mine (they were close friends). I prayed for a MIRACLE and Anchored Homes was just that. Anchored Homes and the team was right there with me every step to sell my house.Every thing I needed they provided me with it. If I ever brought another home, ANCHORED HOMES would be the #1 place I would go to. ANCHORED HOMES IS THE BEST!
My father recently sold a house to John Paul with Anchored Homes and I have to say the entire process was fantastic! I saw one of their yellow signs, CASH FOR HOUSES, and we decided to call the number. After leaving my name and the information on the property, all I had to do was hope for a return call. Later that day I got exactly that and from that point I was very impressed with John Paul. He was very polite and prior to calling researched all of the information I had given on the message.
The day of the appointment John Paul made an offer to my father. After some minor negotiation they agreed on a price and a contract was signed that night, with both of them sitting on the tailgate of my dad's pickup. From that point the process was a breeze.
Overall, I have to say that this entire process was great! From the initial phone call to the actual settlement John Paul and Anchored Homes made us feel comfortable and respected. I would not hesitate to deal with him in the future whether it be selling a home or buying one.
WANT TO SELL YOUR HOUSE FOR MORE MONEY?
Here's the truth: With all the house flipping shows on HGTV buyers now want what they see on TV – BRAND NEW EVERYTHING. If you just want to see what it would cost to bring your property up to date you can with this easy to use Homeowner Repair Cost Estimator tool.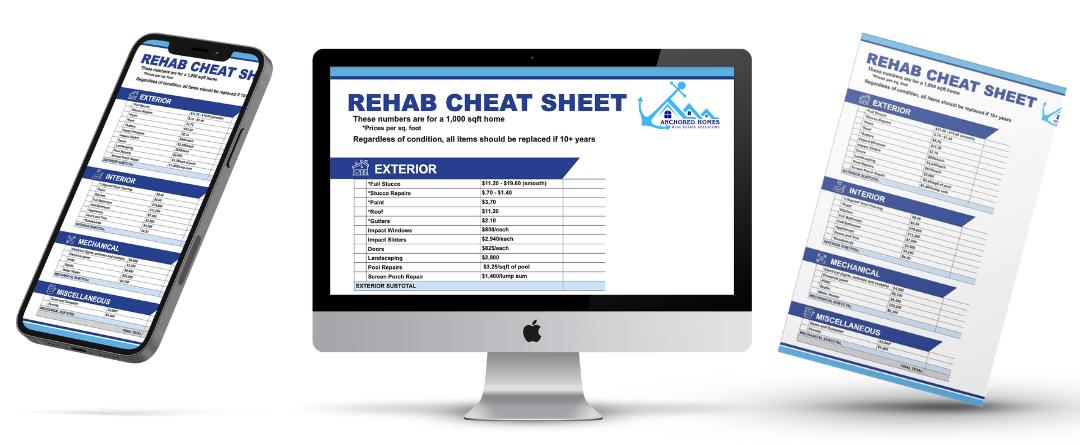 Frequently Asked Questions
What is a Certified Cash Home Buyer?
It's Anchored Homes' personal guarantee and company promise that everybody here on the Anchored Homes team is going to treat your situation and your property and the overall transaction with the utmost honesty, integrity and respect.
How do I know that your contracts aren't trying to take advantage of me?
All of our contracts are drawn up and delivered by a real estate attorney. This means all of the language that's in these contracts is absolutely legit and there's no funny business that you have to worry about..
How do I know you really have the cash to buy my home?
The offer that we make is going to be a REAL CASH OFFER with money that we actually have in our accounts. We provide a certified proof of funds from a bank as evidence that we're not just out here kicking tires or pulling your chain. We actually want to purchase your property and we have the ability to do so.
Why do you need to do inspections?
Are you going to try and give me a lower offer? W e have an inspection period where we get to look at the condition of your property a little bit deeper but, don't worry these are just for informational purposes and we would never ask you to make repairs to the property. And, also, we would never use those repairs to come back and try to renegotiate a price with you. The price that we agree upon is the price that you're actually going to be able to sell the property for and walk away from the closing table with to put right in your pocket!
Do you charge commissions or have any other fees for buying my house?
We're not realtors so there are no hidden fees or commissions and there's no other types of charges that you're going to have to worry about that's going to take away from your bottom dollar on the sale of the property. While we don't have any hidden fees there are standard closing costs that each side is responsible to cover.
Who will be handling the official closing and sale of my property?
We have partnered with the most professional title companies and attorneys in the area to make sure we have a very smooth transaction and that they give you the same amount of respect and customer care that we give you.
How many people have you helped?
Like so many other sellers that we've worked with, we know that you would absolutely have a smooth transaction with us at Anchored Homes. We would like to invite you to watch some of the testimonials from the sellers that we've worked with in the past as they share how amazing it was to work with our team and what it feels like to actually be able to move on to the next chapter of their life..