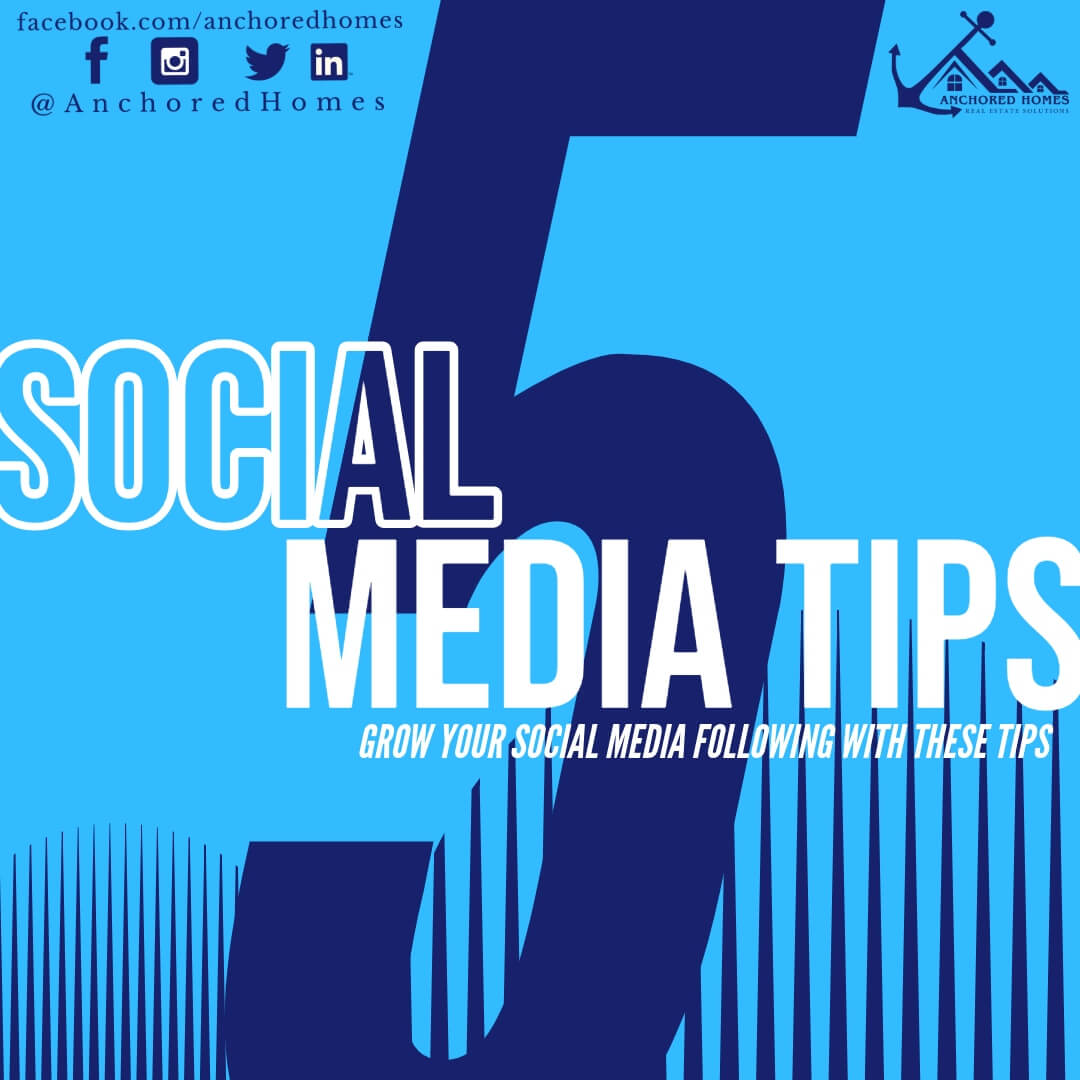 Whether you believe it or not, the majority of the real estate market has moved online. What used to be an industry that depended on cold calling and traditional marketing, has now moved to an industry that relies heavily on social media marketing.
If you're a realtor, you understand how big of an impact social media has on building trust in your former and future client base. Social media is a major lead generator for real estate businesses, yet most real estate brands fail to maximize their efficiency online.
By tweaking your content strategy and optimizing your current and future social media posts. You can achieve great results for your real estate brand. Here are 5 tips that will help you step-up your real estate social media marketing in 2019.
1. Using the Right Real Estate Hashtags to Optimize Your Content
Hashtags are often misinterpreted as a tactic with the sole purpose to increase likes on a social media post. While hashtags do bring more engagement to your content, they also facilitate discovery on social media. An avenue for potential customers to find your real estate brand.
Using the right real estate hashtags for your content is an excellent way for homeowners and buyers to find you. But, it is an even better way for you to discover potential buyers and opportunities for your real estate business.
Some real estate hashtags you can use to find potential home buyers or to attract potential real estate clients include:
Generic Real Estate Hashtags
#realestate #realtor #justlisted #broker #forsale #homesale #newhome #househunting #dreamhome #properties #homelisting #oldhousecharm #property #housing #mortgage #homesforsale #openhouse #homeinspection #homesweethome #foreclosure #renovated #justlisted #reo #fixandfliphouses #homeevaluation
Real Estate Agent Hashtags
#investmentsales #realestate #commercialrealestate #realestatebroker #realestateagent #realestatelife #listingagent #homebuyers #homebuyer #realestateinvestment #propertyforsale #businessbrokerage #commercialboardofrealtors #business #realtoroffice #banking #invest
Customized Real Estate Hashtags
#[Target Neighbourhood] #[Real Estate Team Name] #[Brokerage Name] #[Target City]homes #[Target City]property
Since Instagram only allows a maximum of 30 hashtags per caption or comment, I've included 30 hashtags that you can use for more general real estate Instagram posts. I would recommend you do some keyword research and choosing hashtags that are more relevant to your real estate brand and targeted location. You want to experiment with your hashtags and change them up depending on what works.
2. Include Realtor Quotes in Your Content Strategy
If you're running a real estate business. You know how difficult it is to come up with quality content for your business. You're looking for simple content ideas that resonate with your audience so that you can focus your main efforts on buying or selling homes.
Using real estate quotes and testimonials are a great way to improve your overall content strategy. This will also help you build trust in your audience – if done correctly. You can use real estate quotes and turn them into image quotes!
Funny real estate quotes
Real estate inspirational quotes
Real estate sayings
Real estate agent quotes
There are so many different realtor quotes you can use to create social media graphics for your real estate business. These examples are just a guideline and you can write your own quotes that make sense for your real estate brand.
5. Real Estate Testimonials
You can even contact previous customers and see if they are willing to give any customer testimonials. With these testimonials, you can then use tools like Snappa to turn these quotes into social media graphics for your real estate social media marketing needs.
3. Utilize The Best Social Media Tools for Your Real Estate Business
If you're running a real estate business, you know that time is a scarce resource. There's always something you can be doing and if you can spend less time creating content, you can spend more time closing deals and buying homes. There are a ton of real estate marketing applications that can help you maximize exposure to buyers. The folks at G2Crowd.com have created a grid to compare some of the different real estate software in the industry.
With the amount of technology and resources online today, social media marketing can be simplified and automated for your real estate brand. The barrier to creating great content is low and you can save yourself quite a bit of money by using the right resources for your social media efforts.
1. Free Stock Photos to Find Realtor Images
Getting professional photos taken can be quite expensive and although it's totally worth it to pay for professional imagery, you can get these photos for free. There are plenty of websites that offer free stock photos, but some of the best ones for real estate images, include:
2. Creating Real Estate Social Media Graphics
Having great stock photos are crucial for better visuals, but having bare stock photos isn't enough. You need to be able to customize your social media posts to resonate with your audience. Using stock photos, you can create customized social media graphics with text, shapes, icons, and much more to help cater your message to your audience.
Infographics are a great way to engage with your audience and they provide an easy way for your readers to consume your content. If you're looking to highlight quantitative information, creating a real estate infographic is the way to go and is a highly shareable piece that shows industry expertise. I've compiled a list of some infographic examples to help you get started!
Venngage wrote a great post that explains the benefits of using infographics in real estate and we offer a selection of pre-designed infographic templates for your needs. Check them out!
Snappa is a great tool to create these real estate social media marketing graphics. You have the ability to select from a large collection of free stock photos and you can build a graphic with text and icons – all in one application.
3. Automating Real Estate Social Media Marketing Posts
If you've read anything related to social media marketing. You know that consistency in your social media posts can make a huge difference in your social media performance. Having a consistent post schedule is essential, and it is definitely tough in the real estate business where your schedule is always changing.
That's why we suggest using free tools and online resources to help you automate your social media posts and will help you prepare ahead of time.
Tools such as Buffer and Hootsuite are great tools to use to schedule your social media posts for your real estate business. Once you've finished creating your social media graphic, you can integrate Snappa with Buffer to automate your social media posts to go out on a specific date and time.
4. Generate Valuable Real Estate Blog Ideas
Every real estate website seems to have a blog, but many blogs are either inactive or fail to provide any real value for their audience. Your blog posts should help you show your expertise in the real estate market and they should be optimized to attract new prospects to your website and social channels.
Coming up with real estate blog ideas can be difficult, but here are some examples of blog post ideas you can use to help improve your real estate marketing:
Articles on market predictions and market statistics
Tips for homeowners and what they should know when buying or selling
Posts about the neighborhood and information about the community
Put yourself in the shoes of a new homeowner who may already be in the area or those looking to move into the area. What would you want to know? Chances are someone else is wondering the same thing. These blog post ideas will help familiarize your readers with your expertise and your real estate brand.
Examples of the Best Real Estate Blogs
To give you a better idea of some great real estate blogs, here are a few real estate blogs that generate a ton of traffic and have posts that are a key part of their lead generation.
The BREL Real Estate Team
The BREL team based out of Toronto does a great job with their real estate blog. They focus on local content and on information that homeowners and homebuyers actually want to see. They showcase their listings weekly with their "real estate crush of the week" segment and it gives readers a better look at great listings available from the team.
The BREL team also includes posts focused on the consumer. These posts include Q & A segments on various topics related to real estate, as well as posts relating to the real estate industry and statistics to back it up. They put themselves in the clientele's shoes and create content surrounding their consumer base.
Another great real estate blog you should check out is by Zillow. Zillow is a real estate marketplace where you can search for listings, compare home values, and connect with other real estate professionals. The Zillow blog provides great articles that once again relate to the average consumer. Posts filled with "what you need to know" or "market trends" to better educate their readers. These blog posts provide value to their audience and help their readers make more informed decisions.
5. Optimize Real Estate Facebook Posts and Ads for Realtors
Facebook is a widely used platform that homeowners and home sellers are actively on. Many real estate businesses have great success using this platform Success from both paid and organic content and it is your time to join in and take advantage.
Real Estate Facebook Posts
You want to start by having the right Facebook posts that won't bore your audience and will help your real estate business attract new leads. Some popular real estate Facebook post ideas include:
Real estate tips relating to buying and selling homes for inexperienced individuals
Showcasing local businesses and events happening in the community
Holding giveaways or contests to help build awareness and drive engagement
Real estate stories and testimonials from previous buyers or sellers and their experience
Professional images and graphics of new homes on the market (Use tools like Snappa)
What you want to avoid is overselling your audience. Yes, the main objective of your business is to sell homes, but social media is a long-term play and your audience will buy a home when they're ready. No point in pushing a sale, when your followers are not looking to buy or sell.
Give your audience value and awareness so that when the time comes, your real estate brand will be the first thing on their mind. Here is a detailed post we wrote on Facebook post ideas all businesses should use!
Creating The Right Realtor Ads to Generate More Leads
Facebook offers more than just a social environment for people and pages. With the mass amount of users on the website expressing interest and showing behavior, Facebook has access to an enormous amount of valuable data. Paid advertising on Facebook can be very cost-effective if done right.
As a real estate business, you can target your ad to an audience in a very specific area with specific interests. Along with that, you can choose to target an audience based on their spending habits, their household income, their relationship status, and much more. This opens up a window of opportunity for real estate businesses to get creative and to form great ads to connect to their prospects and leads.
Final Thoughts
The influence of social media and online marketing has made a significant impact on the real estate market. Social media has changed the way that real estate businesses reach their clients and has forced companies to be more interactive and more customized to their audience.
Time is always a rare resource for business owners and real estate brands are no different. Allocating time and money to real estate social media marketing can be tough, but there are several tools and ways for real estate companies to minimize this. By optimizing ads and social media posts, businesses should see better performance on social posts. If you're looking for more ways to increase exposure for your business, check out this article on real estate marketing ideas and this in-depth guide by the AppInstitute.
Focus on generating content surrounding your end-user. Once you know what content to create, use the necessary free resources to create professional content with great visuals. Put yourselves in the shoes of your consumer. What would you like to see if you were buying and selling a home? Cater content and you will be able to see great results for your real estate brand.
Do you have any real estate social media marketing questions or need help getting started in the field? We will answer your questions as best as we can @ marketing@anchoredhomes.com. For advanced inquiries or to get personalized attention please contact our Anchored Ambassador; Soaring Social @ socialsoaring@gmail.com. Thanks for reading!!
Read original article here:https://blog.snappa.com/real-estate-social-media-marketing-tips/